BE PART OF OUR TEAM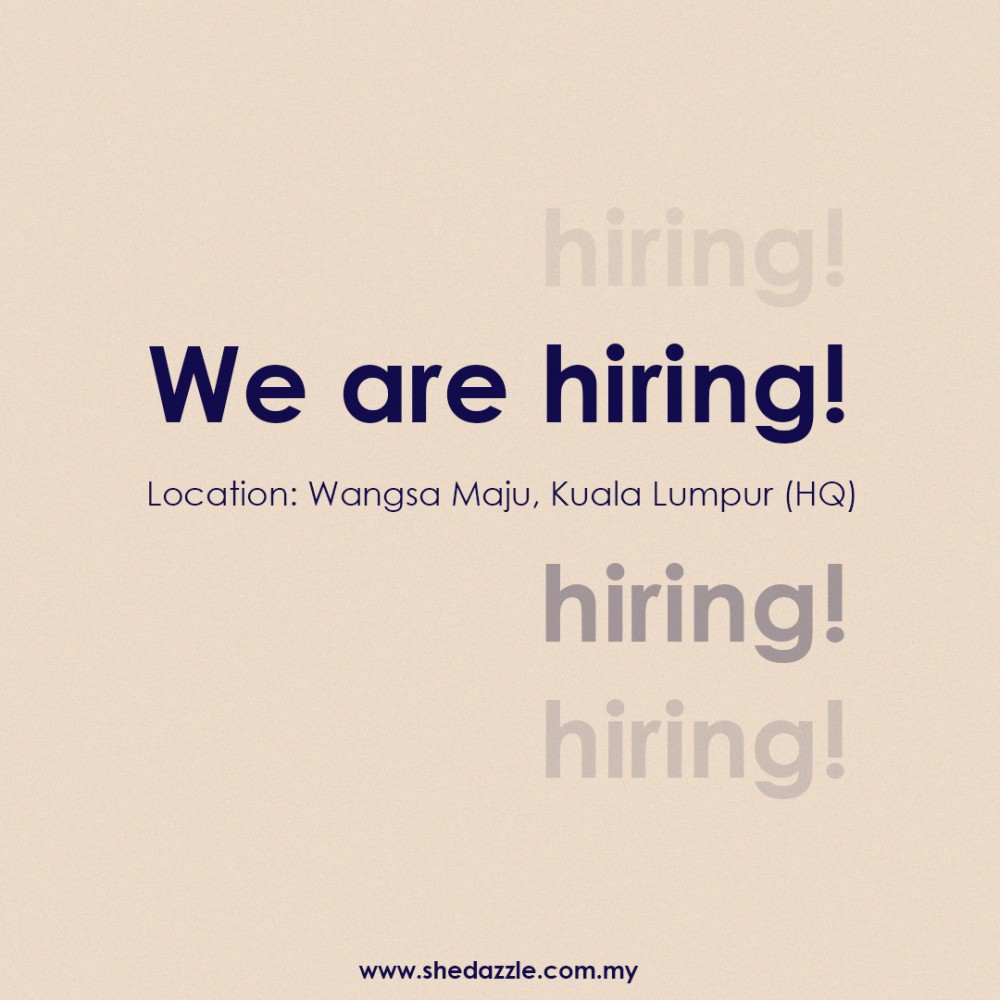 A career in She Dazzle demands creativity and ambitions and offer the opportunity to grown with best teammates and retail partners in the industry.
---
Growth With Us
She Dazzle is growth company that looks for team members to grow with it.
Discover new exciting fashion careers in our fashion job overview and find out what it takes to become a fashion professional. The company looks for people who can grow, think, dream and creative. Its culture thrives by embracing diversity and rewarding imagination.
---
Exciting Inviroment
Become part of She Dazzle team. It is a place to explore potential, obliterate boundaries and push out the edges of what can be. At She Dazzle, you belong to a team that accepts everyone, work hand to help each other succeed, and takes time to celebrate our wins.
---
Passion and Winning
She Dazzle seeks achievers, leaders and visionaries. At She Dazzle, it's about each person bringing skills and passion to a challenging and constantly push sale.
To work in retail is to be the face of She Dazzle, with a relentless focus on product knowledge and customer service, She Dazzle teams give valuable experiences to customers every day.
---
SHE DAZZLE EMPIRE HQ
HR & OPERATION MANAGER
VACANCY Wangsa Maju, KL
Human Resource Managers are professionals who plan for new staff, interview and hire them accordingly to cultivate a healthy work environment where everyone can thrive. They also consult executives on strategic decisions affecting all management levels to create sustainable change within their business or company.
What You Need To Know
Developing and implementing HR strategies and initiatives aligned with the overall business strategy

Bridging management and employee relations by addressing demands, grievances or other issues

Managing the recruitment and selection process
Show Your Skill
Develop and implement HR strategies and initiatives aligned with the overall business strategy

Bridge management and employee relations by addressing demands, grievances or other issues

Manage the recruitment and selection process

Support current and future business needs through the development, engagement, motivation and preservation of human capital

Develop and monitor overall HR strategies, systems, tactics and procedures across the organization

Nurture a positive working environment

Oversee and manage a performance appraisal system that drives high performance

Maintain pay plan and benefits program

Assess training needs to apply and monitor training programs

Report to management and provide decision support through HR metrics

Ensure legal compliance throughout human resource management
Your Daily Follow Up
Monitor staff attendance (Clock-In/Clock Out)

Monday – Friday (10am-7pm)

Saturday (10am-2.30pm)
---
ACCOUNTANT & ADMIN
VACANCY Wangsa Maju, KL
Accountants have a legal obligation to act honestly and avoid negligence in their practices. As such, they are also responsible for ensuring that their clients' financial records are compliant with the relevant laws and regulations. Although the daily duties of an accountant will vary by position and organization, some of the most common tasks and responsibilities of accountants include:
What You Need To Know
Ensuring the accuracy of financial documents, as well as their compliance with relevant laws and regulations

Preparing and maintaining important financial reports

Preparing tax returns and ensuring that taxes are paid properly and on time

Evaluating financial operations to recommend best practices, identify issues and strategize solutions, and help organizations run efficiently

Offering guidance on cost reduction, revenue enhancement, and profit maximization

Conducting forecasting and risk analysis assessments
Show Your Skill
Attention to detail
Accounting professionals must pay strong attention to detail in order to keep information accurate and organized. With the amount of financial data that must be analyzed, it can be easy to make mistakes; however, simple errors can translate into much larger problems if they're not caught.
Communication
Accountants must be able to listen carefully in order to accurately gather facts and figures from clients, managers, or other stakeholders. They must also be able to clearly articulate the results of their work and present their findings in written reports
Business acumen
To be effective in this role, an accountant must understand the basic functions of a business to accurately analyze and interpret financial data. Having a solid foundation in business provides context to the financial information that accountants work with on a daily basis.
Computer literacy
Data Analysis
Collecting and analyzing financial data is a large part of accounting and is an important aspect of identifying patterns and potential issues. In fact, applying data analytics to the accounting field is an emerging trend in the industry that is expected to have a growing impact in the future.
Mathematics
A common misconception is that you have to be good at math to be an accountant. It is true that math skills are important in order to analyze, compare, and interpret data and figures; however, complex mathematical skills aren't typically necessary to become an accountant.
Your Daily Follow Up
---
ONLINE SALE LEAD
VACANCY Wangsa Maju, KL
The sales lead will perform sales, management, and administrative tasks, such as maintaining your sales performance, recruiting, and training staff, and monitoring inventory. To be successful as a sales lead, you should have excellent sales and leadership skills, as well as strong customer service skills.
What You Need To Know
Work with sales team to identify opportunities for new markets and growth.

Coordinate with sales team to revise pricing and sales incentive plan to achieve marketing goal.

Conduct effective sales presentation for potential customers.

Develop and maintain sales records of sales meetings, sales calls, new sales, closed sales, follow-up activities, etc.

Provide excellent customer service by addressing and resolving customer queries/issues in a timely manner.

Develop best practices for online sales and customer services.

Ensure sales team complies with company policies, procedures, and business ethics codes.
Show Your Skill
Communicate branding guidelines to promoters and residents.

Assist online customer to make a profit for the company.

Lead the Agents of the company with full access given for all troubleshoot and inquiries from agent.

Manage all report regarding the Agents Sales and Profit.

Full support to Marketing Team as a She Dazzle Representative

Knows all the technical part for Vennpos & Website to help the agent and crew to solve any troubleshoot.

Fully understand the system of She Dazzle on operating as a fashion industry.

Explaining and demonstrating products to customers.

Meeting sales targets and compiling weekly and monthly reports.

Maintaining agents and internal team records and engaging with them and creating a positive relationship with agent

Taking agent issue or problem and support them until all solve.

Scheduling zoom training for agent.

Keeping track of online marketing trends and keep update with agent.

Communicating with other departments to solve any inquiry and problem.
Your Daily Follow Up
Monitor Dropship and Sales Team performance

Monday – Friday (10am-7pm)

Saturday (10am-2.30pm)
---
ONLINE CUSTOMER SALES
VACANCY Wangsa Maju, KL
Sales Associate duties and responsibilities include working closely with customers to determine their needs, answer their questions about your products and recommend the right solutions. You should also be able to promptly resolve customer complaints and ensure maximum client satisfaction.
What You Need To Know
Online Sales Representative job description should contain a variety of functions and roles including:
Learn details about our product and service offerings

Finding leads and conducting the necessary follow-up to meet sales quotas.

Address any questions or issues customers may have

Communicate with customers to understand their requirements and need

Offer solutions based on clients' needs and capabilities

Update client records

Track and document calls and sales

Participating in any required training
Show Your Skill
Managed shift operations of retail sales and central checkout sections.

Perform online sales activities to achieve company sales objectives.

Identify and contact potential customers for business opportunities.

Update customer database with contact details and interest information from prospective customers.

Perform daily tasks based on assigned work plan.

Maintain profitable and productive relationships with customers.

Maintain up-to-date knowledge about product information and promotions.

Attend sales training and educational programs for professional development.

Respond to customer queries promptly and professionally.

Work independently or in a team to achieve monthly sales quota.

Provide excellent services and ensure customer satisfaction.

Develop sales strategies and determine sales forecast and projections.
Your Daily Follow Up
Follow up customer purchase

Monday – Friday (10am-7pm)

Saturday (10am-2.30pm)
---
RETAIL SUPERVISOR
VACANCY Wangsa Maju, KL
As retail store managers, store supervisors are responsible for overseeing the daily operations of a retail store, including product availability and pricing. Other duties entail managing the staff and customer services and controlling finances. They may also train new employees and schedule shifts.
What You Need To Know
We are looking for an experienced and dedicated store supervisor to manage our retail store. In this role, your duties will include overseeing employees and finances, and controlling the quality of products and services. You may also be required to evaluate the job performance of retail staff.
To ensure success as a store supervisor, you should exhibit demonstrable managerial competency, and excellent communication skills. Store Supervisors are natural leaders with excellent business management skills and a passion for customer service.
Show Your Skill
Overseeing salespeople, cashiers, shelf stockers, and other employees.

Managing finances and preparing an annual budget.

Keeping records of expenditure, sales figures, and employee performance.

Evaluating the supply and availability of stocks, and profit-margins.

Implementing measures to avoid stock damages, theft, and wastage.

Monitoring shelves stocks and product displays, and the general appearance of the store.

Investigating market trends and offering products that would appeal to customers.

Addressing customers' requests, comments, and complaints.

Motivating employees to achieve targets.

Training new staff members and scheduling shifts.
Your Daily Follow Up
Monitor Daily Sales Report DSR

Monday – Friday (10am-7pm)

Saturday (10am-2.30pm/2.30pm-7pm)
---
STORE LEADER
VACANCY Wangsa Maju, KL
A store manager is responsible for overseeing the daily operations of a store, making sure it runs smoothly and effectively. Their duties include motivating sales teams, creating business strategies, developing promotional material, and training new staff.
What You Need To Know
We are looking for a professional and customer service-oriented store manager to oversee daily operations at our store. As the store manager, you will supervise the operational and organizational standards of the store. Your duties will include undertaking administrative tasks, monitoring inventory levels, and developing business strategies.
The ideal candidate must be able to improve customer satisfaction and meet monthly sales goals. In addition to being an excellent communicator, you should also demonstrate outstanding leadership and interpersonal skills.
Show Your Skill
Delivering excellent service to ensure high levels of customer satisfaction.

Motivating the sales team to meet sales objectives by training and mentoring staff.

Creating business strategies to attract new customers, expand store traffic, and enhance profitability.

Hiring, training, and overseeing new staff.

Responding to customer complaints and concerns in a professional manner.

Ensuring store compliance with health and safety regulations.

Developing and arranging promotional material and in-store displays.

Preparing detailed reports on buying trends, customer requirements, and profits.

Undertaking store administration duties such as managing store budgets and updating financial records.

Monitoring inventory levels and ordering new items.
Your Daily Follow Up
Monitor physical store and stock

Monday – Friday (10am-7pm)

Saturday (10am-2.30pm/2.30pm-7pm)
---
STORE ASSISTANT
VACANCY Wangsa Maju, KL
As store assistants, retail sales assistants, and sales assistants, shop assistants work in the retail industry where they are responsible for serving customers and processing sales transactions. They also restock shelves, resolve customer complaints, and ensure that the sales floor is well-maintained.
What You Need To Know
We are looking to hire a hard-working, customer-oriented shop assistant to ensure the smooth running of in-store retail operations. The shop assistant's responsibilities include welcoming customers to our shop, monitoring customer activities to prevent incidents of shoplifting, arranging window displays accordingly, and processing customer refunds. You should also be able to identify customers' needs and recommend suitable shop items that best satisfy their needs.
To be successful as a shop assistant, you should be well-organized and adept at using pricing and labeling equipment. Ultimately, an outstanding shop assistant should demonstrate effective communication skills and always achieve exceptional customer service.
Show Your Skill
Restocking depleted or low shop items and ensuring that the sales floor is organized according to established guidelines.

Assisting customers in locating desired shop items.

Informing customers of shop promotions to encourage purchases.

Performing regular price audits to identify and correct price discrepancies.

Performing end-of-day cleaning duties, which includes wiping down windows, mirrors, and fixtures as well as sweeping and mopping the shop floor.

Addressing and resolving customers complaints in a professional manner.

Processing customer payments using the shop's Point of Sale (POS) system.

Maintaining an in-depth knowledge of store items to provide advice and recommendations as needed.
Your Daily Follow Up
Monitor opening cashier and physical store layout

Monday – Friday (10am-7pm)

Saturday (10am-2.30pm/2.30pm-7pm)
LOGISTIC
VACANCY Wangsa Maju, KL
You are professionals who are responsible for ensuring that the supply chain is efficient and effective throughout their organization. They organize, store and monitor the distribution of goods to ensure items and resources are shipped to their appropriate destinations.
What You Need To Know
Shipping assistants perform various daily job tasks depending on the materials being shipped into and out of the warehouse. These core duties, however, are the same in all work environments:
-Inspect Items
-Package Materials
-Fill Out Paperwork
-Maintain Inventory
-Receive Deliveries
Shipping assistants accept deliveries, log them into the inventory system, and store them properly within the warehouse.
-Prepare Shipments
-Clean
Show Your Skill
Shipping assistants are detail-oriented, well-organized professionals who keep track of shipments and inventory, and assist the shipping manager with all tasks. Employers prefer candidates with the following skills:
Physical fitness - shipping assistants need physical strength to lift heavy items, walk the warehouse floor, and stand on their feet for hours at a time

Computer skills - some basic computer skills are essential for shipping assistants to log information into digital systems

Communication skills - shipping assistants use good communication skills to collaborate with the rest of the warehouse team and coordinate deliveries and shipments

Time management - strong time management skills are a must-have for shipping assistants, who prepare shipments for pickup deadlines

Attention to detail - shipping assistants must be detail-oriented when inspecting shipments and deliveries for signs of damage

Organization skills - shipping assistants use organization skills to keep shipments and deliveries within their assigned areas, maintain warehouse cleanliness, and manage shipping inventory items

Multitasking - because multiple shipments and deliveries come into and go out of the warehouse in a single day, shipping assistants must be good multitaskers
Your Daily Follow Up
Monitor shipping and courier enquiry

Monday – Friday (10am-7pm)

Saturday (10am-2.30pm/2.30pm-7pm)
---
E-COMMERCE LEADER
VACANCY Wangsa Maju, KL
E-commerce associates ensure that online stores are visually appealing, easy to navigate, and furnished with accurate, up-to-date content. Many e-commerce associates are heavily involved in the quality assurance of such website content, while others perform the IT-related tasks that underpin these systems.
What You Need To Know
As an e-Commerce Specialist, you will create and implement strategies that make online transactions possible. You will organize, develop, and execute website marketing plans.
Write and edit product content that will be published on e-Commerce websites/portals.

Set standards, systems, and best practices for new product listings, content creation, distribution, and maintenance.

Work closely with different teams (product management, graphics, sales) to provide updated content that will be sharedacross e-Commerce platforms.

Be a subject matter expert to assigned product categories.

Identify SEO best practices regarding inventory, pre-orders, and pricing policies.

Monitor changes in product sales by using web analytics and Excel spreadsheets to stay organized.

Ability to multitask and meet deadlines while maintaining attention to detail.
Show Your Skill
Launched new responsive website, content management system and improved overall user experience.

Developed and implemented plans for delivering and quality assurance process to the website & marketplace site.

Worked with external partners to ensure all web & marketplace site content remained consistent of brand voice.

Developed product description & keyword research for major marketplaces.

Reviewed and modified product descriptions to ensure effective information about products.

Research, write, edit, proof and format product descriptions for each product.

Identify and implement new eCommerce & marketplace trends and best practices

Monitor shipments and service level achievement of customer.

Handle customer enquiries, feedback, complaints from website & marketplace.

Enhance appearance and functionality of company website and marketplace.
Your Daily Follow Up
Monitor shipping all platform

Monitor stock up-to date each platform

Monday – Friday (10am-7pm)

Saturday (10am-2.30pm)
---
FASHION DESIGNER
VACANCY Wangsa Maju, KL
A fashion designer designs and assists with the production of clothing and accessories, identifies trends, and selects styles, fabrics, colors, prints and trims for a collection. Fashion designers either design haute couture or ready-to-wear clothing.
What You Need To Know
As a fashion designer you'll work on the design of clothing and fashion ranges. You'll typically specialize in one area of design.
Depending on your level of responsibility and the company, you may work to your own brief or be given a brief to work towards, with specifications relating to color, fabric and budget.
Show Your Skill
Tasks depend on the market the designer is working for, but core responsibilities include:
creating or visualizing an idea and producing a design by hand or using computer-aided design (CAD)

keeping up to date with emerging fashion trends as well as general trends relating to fabrics, colors and shapes

planning and developing ranges

working with others in the design team, such as buyers and forecasters, to develop products to meet a brief

liaising closely with sales, buying and production teams on an ongoing basis to ensure the item suits the customer, market and price points

understanding design from a technical perspective, i.e. producing patterns and technical specifications for designs

sourcing, selecting and buying fabrics, trims, fastenings and embellishments

adapting existing designs for mass production

developing a pattern that is cut and sewn into sample garments and supervising the creation of these, including fitting, detailing and adaptations

overseeing production

negotiating with customers and suppliers

managing marketing, finances and other business activities, if working on a self-employed basis.
Your Daily Follow Up
Follow up production

Up-to date fashion trend with own customer preference

Monday – Friday (10am-7pm)

Saturday (10am-2.30pm)
---
ART & MARKETING COORDINATOR
VACANCY Wangsa Maju, KL
Marketing coordinators are professionals who coordinate all the marketing activities and initiatives of an organization. Conduct market research, carry out promotional campaigns, identify target audiences and evaluate current trends.
What You Need To Know
We are looking to hire a marketing coordinator with outstanding organizational and research skills. Marketing coordinators are expected to be creative individuals with fantastic communication skills and excellent time management.
To ensure success, marketing coordinators should be detail-oriented and have a solid understanding of marketing techniques with a keen interest in providing a consistent brand voice across all marketing activities to specific audiences. Top candidates will exhibit critical thinking skills, strong problem-solving skills, and meticulous attention to detail.
Show Your Skill
Develop strategic marketing initiatives and activities.

Implement marketing plans that include print, broadcast, and online content.

Create branded advertising campaigns and support the marketing and design teams by coordinating and collating content.

Setup tracking systems for marketing campaigns and online activities.

Conduct market research to identify marketing opportunities and negotiate media coverage.

Traffic all advertising efforts to appropriate channels.

Develop and manage all internal communication systems.

Create, maintain, and strengthen the organization's overall brand through all media avenues.

Organize and streamline service offerings into user-friendly concepts.

Manage print contractors and other promotional vendors.

Maintain strict confidentiality of sensitive information.

Simplify complex data into a user-friendly format such as graphs, charts and other visual aids for clients and management.
Your Daily Follow Up
Follow up each campaign

Monitor sales and inventory product

Monday – Friday (10am-7pm)

Saturday (10am-2.30pm)
---
DIGITAL MARKETER
VACANCY Wangsa Maju, KL
A Digital Marketer is a professional who is responsible for maintaining a brand's online presence and sales by working on various marketing campaigns. Their duties include researching, strategizing with other professionals and creating content for successful campaigns.
What You Need To Know
Digital marketer is responsible for getting the word out in the market about a brand. They use a wide variety of digital channels to build brand awareness and generate leads. The digital channels include the company's website, and social media platforms such as YouTube, Facebook, Instagram and Tiktok.
Show Your Skill
Manage the development and execution of regional digital marketing programs, including SEO, marketing automation, social media, website and online advertising campaigns.

Evaluate the end-to-end customer experience to identify and execute campaigns that drive customer acquisition, maximize revenue, and improve retention.

Provide analysis and reporting on digital projects/campaigns and placements, website traffic, social media impression and email campaigns.

Plans, executes, and measures experiments and conversion tests.

Identifies trends and insights and optimizes spend and performance based on the insights.

Collaborate with creative team to develop digital marketing activities to support campaign strategies and business goals.

Keep abreast of new social media sites, web technologies, and digital marketing trends and implement these new technologies to enhance brand awareness in the digital space.

Support and execute the B2B digital demand generation strategy, including development with all inbound and outbound tactics, including emails, landing pages, database marketing, forms, CTAs and workflows.

Provides thought leadership and perspective for adoption where appropriate.
Your Daily Follow Up
---
SOCIAL MEDIA MARKETER
VACANCY Wangsa Maju, KL
We are looking for a driven Social Media Marketer to attract and interact with targeted virtual communities and networks users.
The goal is to gradually achieve superior customer engagement and intimacy, website traffic and revenue by strategically exploiting all aspects of the social media marketing roadmap.
Social Media Marketer should have a solid understanding of how each social media channel works and how to optimize content so that it is engaging on those channels. You are responsible for joining relevant conversations on behalf of the brand and "soft selling" the product by providing support to current and prospective customers.
What You Need To Know
One of the most crucial roles played by social media marketer is communicating a brand's message to their targeted audience. Let's delve deeper to understand how social media marketer add value in respective contexts.
Developing Social Media Strategy

Developing a robust social media strategy is the key to winning in the digital arena. Focusing on the right channels helps to target the most relevant audience and also optimizes the marketing ROI. A key component of strategy development is forming the 'audience avatar'. The Social media strategy should answer questions related to the goal of a brand's social media presence and its most feasible course of action to achieve those goals.

Identifying the Target Market and Relevant Social Networks

This is one of the most important tasks that determine the success of your social media campaign and has the most influence on the success probability. Finding the right audience set requires a search for an audience whose interests matches with or is similar to that of a brand's. It will help to easily convert them into customers as they are already interested in what you are marketing. Social media marketers are also responsible for finding the most suitable social media channel for the brand so that they can leverage the full potential of social media platforms.

Creating Content for Multiple Social Media Channels

Another important responsibility of a social media marketer is to create appealing and audience-centric content for all relevant social media channels. Finding out the most relevant social media channel for a brand to communicate its message is extremely important and it makes all the difference. After researching and finding out the most relevant social media channels for a brand, the next step is to create unique eye-catchy content that provides the user with some value and help them connect with the brand.

Obtaining Followers and Engagement

Social media marketers are responsible for communicating the brand's message effectively to the targeted audience so that they can build a community of followers. Social media marketers plan their social media content strategy intending to increase their follower base so that they could convert them into loyal customers. Promoting relevant content at the right time and to the right audience consistently helps to increase and maintain the follower count.

Boosting the Website Traffic

The ultimate aim of every social media marketer is to boost the website traffic so that it can result in high sales volume and profit for the brand. Every social media post and engagement is done to convert a loyal audience base into a loyal customer base. All the social media content helps to engage with the followers and audience on the network who can then visit the website to make a purchase. Most of the social media marketing strategies have an end goal of increasing web traffic and conversion rates so that they can improve the top-line for the business.
Show Your Skill
Build and execute social media strategy through competitive research, platform determination, benchmarking, messaging, and audience identification

Generate, edit, publish, and share daily content (original text, images, video or HTML) that builds meaningful connections and encourages community members to take action

Set up and optimize company pages within each platform to increase the visibility of company's social content

Moderate all user-generated content in line with the moderation policy for each community

Create editorial calendars and syndication schedules

Continuously improve by capturing and analyzing the appropriate social data/metrics, insights, and best practices, and then acting on the information

Collaborate with other departments (customer relations, sales etc.) to manage reputation, identify key players, and coordinate actions

Conceptualized blog content designed to achieve inbound marketing through a combination of content marketing and search engine optimization techniques.

Helped develop and manage various marketing responsibilities relating to social media, content marketing, and business development.

Composed and published strategic communication content marketing department instruction manual distributed throughout the entire communication and marketing departments.

Managed and developed online media communication platform including content production for social media networks.

Create stylish, quippy content for multiple social media channels.

Lead and collaborated with a team in creating content to promote the brand utilizing photography & graphic design.

Conducted Facebook & Instagram live-streams.
Your Daily Follow Up
Update each media social platform feed/content

Up-to date each trendy trend on social media

Monday – Friday (10am-7pm)

Saturday (10am-2.30pm)
---
SENIOR VISUAL DESIGNER
VACANCY Wangsa Maju, KL
Graphic designers use computers or hand tools to create posters, websites, logos, brochures, magazines, and many other materials to communicate ideas and information visually.
What You Need To Know
We are seeking a new graphic designer to join our team. You will be designing a wide variety of things across digital and offline media. To be successful in this position, you'll be a self-starter, capable of delivering brilliant creative ideas, and show amazing attention to detail.
Show Your Skill
Planning concepts by studying relevant information and materials.

Illustrating concepts by designing examples of art arrangement, size, type size and style and submitting them for approval.

Preparing finished art by operating necessary equipment and software.

Coordinating with outside agencies, art services, web designer, marketing, printers, and colleagues as necessary.

Contributing to team efforts by accomplishing tasks as needed.

Communicating with clients about layout and design.

Creating a wide range of graphics and layouts for product illustrations, company logos, and websites with software such as photoshop.

Reviewing final layouts and suggesting improvements when necessary.
Your Daily Follow Up
Follow up each graphic platform banner/sub banner/ads/feed content

Monday – Friday (10am-7pm)

Saturday (10am-2.30pm)
---